Here we are on the Champs Elysees before the riders arrive.
Sunday, July 25, 2004 - Stage 20 - Montereau to Paris
A million people on L'Alpe d'Huez the other day, and probably more on the Champs Elysees today. Our feet are tired from standing for seven hours waiting for Lance to take his victory lap No. 6. We actually arrived on the Champs at 6:45 a.m. but were able to sit until about noon. We were fortunate to meet some really great American fans from Fat Tire Bike Tours, a company run by Texans in Paris. (Thanks ya'll for the awesome spot and the great company all day!)
Lance speeds along the Champs Elysees in yellow to win number six!
With our new friends, we had quite the viewing spot with our Texas and U.S. flags and chairs set up to designate our space. By 2 p.m. a lot of wannabe hangers-on tried to push us against the barriers, but we held our ground. By 3 p.m. the publicity caravan rolled past and it wasn't until about 4:45 when we saw our first rider. They did 10 laps on the Champs Elysees before a podium ceremony that lasted at least an hour. Then Sheryl Crow's All I Wanna Do played three times and we had another 30 minutes to wait before every team came past in a parade, By that time all we really wanted to do was see Lance. He strolled by surrounded by dozens of photogs (those darn photogs!) with U.S. and Texas flags on the Postal cars. We didn't see Sheryl in any of the team cars, but we later saw Will Smith on TV. Apparently he came to see the race today.
Bronwen & Brit, two of the nicest Texans in Paris, part of Fat Tire Bike Tours staff.
The Fat Tire Bike Tours enclave, the most happening spot along the Champs today.
So now it's after nine and we haven't had one real meal today. So au revoir, we love you. Rox and Andy
Monday, July 19, 2004 - Rest Day
Tuesday, July 20, 2004 - Stage 15 - Valreas to Villard de Lans
Wednesday, July 21, 2004 - Stage 16 - Le Bourg d'Oisans to l'Alpe d'Huez
Thursday, July 22, 2004 - Stage 17 - Le Bourg d'Oisans to Le Grand Bornand
Friday, July 23, 2004 - Stage 18 - Annemasse to Lons le Saunier
Saturday, July 24, 2004 - Stage 19 - Besancon to Besancon
Andy should have brought a Speedo. He was kicked out of a public pool in Arboir the other day because his swimming shorts were too modest. A lifeguard approached him and pointed emphatically after half a lap in the pool. Andy thought that she was saying he couldn't wear jewelry, and she was telling him to take off his rings. Then she pointed to his shorts and scolded about the length. At first we thought it was a fashion faux pas and Andy was an embarrassment because of his farmer's tan. Then two other men were shown the door after they came in above-the-knee shorts.
Live strong. The yellow bands with those words are the hottest accessory for Americans following the Tour. Virtually everyone we have met is wearing yellow. It's a fundraiser to benefit Lance Armstrong's cancer foundation. It's also a great icebreaker to help identify other Americans. (As if you couldn't tell from their frumpy swim trunks, ha!) We've met many more U.S. fans this year compared to last. Maybe because it's easier to see they're wearing yellow.
A fan wearing Lance's yellow wrist band cheers on one of the early riders suffering up L'Alpe d'Huez.
We made it through the Alps after a marathon day on L'Alpe d'Huez. We awoke at 5 a.m. and started hiking at 6. Lance didn't ride until 5 p.m. and we finally made it back to our car at 7. Fortunately we found a nice shady spot and some friendly fans to talk with as we waited several hours. L'Alpe d'Huez is famous for its 21 switchbacks and brutal rides during the Tour. This is the first year it has been raced as a time trial. (Riders go out one by one and race against the clock.) The section we were at had a 10 percent grade and was really tough just walking. We heard there were1 million fans on the mountain for the stage. It's a 14K climb to the top, which is a ski resort. It was probably in the high 80s all day, but that didn't deter the fans from being loud and boisterous for all 160 riders in the field.
The sun starts to peek over the huge shadow created L'Alpe d'Huez in the morning; Bourg d'Oisans at the base, where the riders started.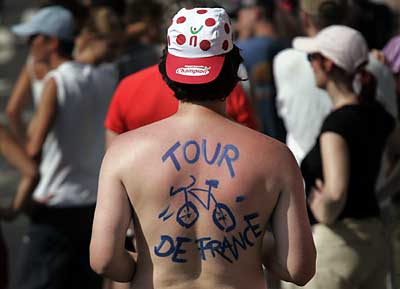 A fan displays some Tour body art on L'Alpe d'Huez.
The crowds cheer and jeer Jan Ullrich as he makes his way up L'Alpe. Too much German chocolate cake in the off season for Jan...
Lance was on a tear up L'Alpe, winning the stage easily.
Yesterday we watched the 18th stage from a smaller climb at Les Crozets, a tiny town in the north central part of France. We drove through the rolling hills and farmland, taking a tiny farm road that's not even named on the Michelin map as a shortcut to the peak of the climb.
Floyd Landis breaks the wind for Lance as they summit Les Crozets.
We're driving to Paris today and dumping the car before tomorrow's final stage at the Champs Elysees. There won't be much suspense in the time trial because Lance has been dominant during some key stages. It will be nice to relax in Paris and not be on this crazy Tour, moving to a different city every day. We finally did some sightseeing in Bourg-en-Bresse, touring the 16th century abbey called Brou.
Brou, the church in Bourg-en-Bresse.
The local French cuisine continues to be a treat. We had a five-course meal in a small hotel in Provence with wine that cost about $60 US. It was fabulous with an apple tart and vanilla ice cream for dessert. We've also tried a beef bourguignon, beef cooked in red wine with vegetables. And the wine continues to be an adventure for both of us. Neither of us has a clue what we're drinking, but it's fun to taste the differences by region.
Fresh apricots were just some of the goodies at the market on Friday in Arbois.
It's time to pack up our little Peugeot and make the final road trip to Paris. Wish us luck as Andy tries to find our hotel...Au revoir.
Love,
Rox & Andy
Wednesday, July 14, 2004 - Stage 10 - Limoges to Saint-Flour
Thursday, July 15, 2004 - Stage 11 - Saint-Flour to Figeac
Friday, July 16, 2004 - Stage 12 - Castelsarrazin to La Mongie
Saturday, July 17, 2004 - Stage 13 - Lannemezan to Plateau de Beille
Sunday, July 18, 2004 - Stage 14 - Carcassonne to Nimes
Sunday, July 18
Bonjour, ya'll,
We apologize for the long delay in posting more photos. We have been on the Tour and without Internet access for a few days. Today we're in Sete, soaking up the sun on the Mediterranean Sea and playing on the beach. It's Sunday so there were many families and topless women out today. We're taking a day off from the Tour because it's a long flat stage from Carcassonne to Nimes. We're actually watching it on TV, wishing we could understand the commentary.
Our French is still very basic, limited to asking for food and the location of bathrooms. We have met so many friendly people since our arrival, including many Americans following Le Tour. There are two kinds of Americans - those on self-guided tours in tiny rental cars like us and the well-toned cyclists (and more often, those who fancy themselves as such) traveling with official tours, such as Trek and Backcountry. Those are the elite who pay several thousand per week to have their bikes hauled around and room and board secured by tour operators. We prefer the adventurous fans like us, living out of the trunk and eating baguette for every meal. We met many at La Mongie, a classic climb of the Tour where Lance took off and put some time on Jan Ullrich the other day. Those photos of Lance are from that stage.
Lance works his way up La Mongie.
Tyler struggles up La Mongie, clutching Tugboat's dog tag. Two days earlier Tyler had to put Tugs down and he crashed hard the week earlier. A tough Tour for Tyler.
Tyler wrote a wonderful tribute to his dog that you can read here. Any dog lover, especially those of us with retrievers, can relate.
We arrived at the mountain at 8:30 p.m. the night before and were fortunate to find a spot about 3km from the finish on a very crowded, narrow road. We pitched our tent on a hill (not so good for the back) and listened as our neighbors continued to party and yell until well into the morning. The best fans on the Tour are the Basque, recognizable for the bright orange shirts and hats. They have a special language and live throughout the south of France and Spain. They're really boisterous and passionate about cycling, although their hero, Iban Mayo, hasn't been much of a threat this year.
Our spacious and inviting campsite among the switchbacks on La Mongie.
The riders finally came through La Mongie at about 4:45 p.m. (only 20 hours after we arrived). Fortunately, Lance and the leaders had a good split from the peleton so it took about 25 minutes for everyone to pass us. It's not as much fun to watch the sprints because they pass you in 30 seconds. We sat in traffic trying to get off La Mongie for about 2 hours, 30 minutes. By then we were unable to find a hotel at our next destination but found a municipal campsite in Saint Girons. It wasn't bad because we had hot showers and it was only 10 Euro for the night. We've camped three nights, and so far it has been fairly painless. The French love to camp, apparently, and RVs are quite popular.
A typical French farmstead in the Pyrenees, on the way down the mountain stuck in traffic after La Mongie.
Lance has been cheered heartily at every stage we've seen. We've encountered only positive sentiment toward Americans, unless we've been too oblivious to understand. It has been a terrific trip so far, a little easier compared to last year. We're obviously more adept at navigating through the countless roundabouts that are a staple of French roads. We're glad we made fewer reservations this year and have taken a more spontaneous approach to seeing the Tour and the French countryside.
In Carcassonne yesterday we saw the medieval castle that the city is known for. We were both beat from the Pyrenees stages and really wanted a hotel. We're in Sete, a resort town with beautiful beaches and lots of tourists. Last night we had the biggest plate of mussels that you can imagine and cheap red wine from the Languedoc region. We've been eating well - pan chocolate, fromage, eclairs...we've also finished off a bag of madeleines today. It's amazing how hungry one gets waiting for a bike race every day.
A kitten helps herself to our petit dejuener (breakfast of baguette and coffee before yesterday's stage.
---
In case you're wondering about the bobblehead doll in the photo, that's the Dave doll in honor of Dave Smith, who retired as executive sports editor at The Dallas Morning News this year. We knew our friends at SportsDay would enjoy him. He's hanging out in an awesome field of sunflowers somewhere in the Languedoc region. He's also been spotted in other regions of France. (can't believe we brought along a bobblehead doll but no hair dryer!)
Dave presides over sunflower growth. Can't they plant some more flowers in this space?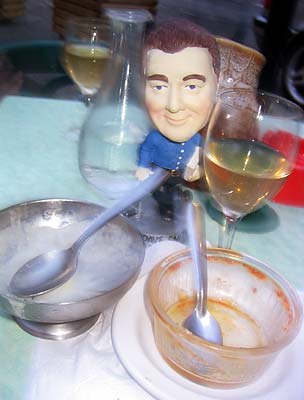 How much wine can you expense?
On the big day, Dave stands tall on the Champs Elysees.
The Eiffel tower is taller, but not by much. No word if the French really like the new Dave monument.
---
We hiked at least 12 miles (measured on Rox's pedometer) to see the summit climb at Puy Mary in the Central Massif region on Wednesday. It was a long hot hike through the woods and brush, but the view was awesome. (No road, just a path that's probably been there for a hundred years. And definitely no Starbucks along the way.) We had a prime viewing spot on the mountain as you can see from the photos of Tyler Hamilton and Richard Virenque climbing. We were amazed to see a photo of Andy in L'Equipe, the French national sports newspaper the next day. Not a photo that Andy had taken, but a photo of Andy right behind Virenque on the front page (six columns in color!).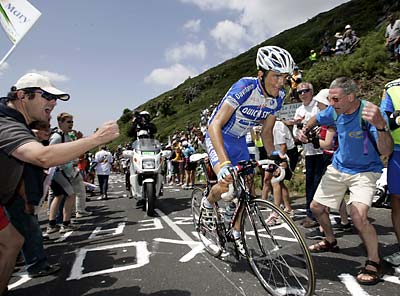 Richard Virenque summits Puy Mary first, he claimed the King of the Mountains jersey after this stage.
The cover of L'Equipe the next day, Andy is in the center of the frame in the black shirt holding a camera.
American Tyler Hamilton struggles on the climb. His dog Tugboat died the day before. :-(
Well that's it for now as we head to Provence tomorrow before the Alps. We miss everyone, especially Murray, who would be welcome in most public places here.
Au revoir,
Rox and Andy
Tuesday, July 13, 2004 - Stage 9 - St. Leonard de Noblat to Gueret
We arrived in Paris after a long flight - the 767 was packed full of Mormon boys heading out on their missions and a large Mexican youth group, as well as a few fans heading to the Tour. We identified them by their yellow wristbands, a fundraiser for cancer patients by the Lance Armstrong Foundation.

Our little Peugeot 307 is almost new and runs great - we drove for almost seven hours, just under 600 km, and only went thru a little over half a tank of diesel and are now the middle of the massif central of France. We dined at quaint brasserie just down the street from our hotel in Tulle. We had a giant chocolate mushroom (a meringue cookie with a scoop of ice cream) for dessert. There is a small river that runs through the center of town and our hotel is located right on one side.

An early wakeup call for the Tour awaits tomorrow.

Au Revoir,

Rox & Andy

Our cell phone number here is 011 33 6 32 97 96 36, incoming calls are free.


A quick happy snap of the river that runs thru Tulle.
All images are © 2004 / Andrew P. Scott Photography, all rights reserved. 214.503.3150.